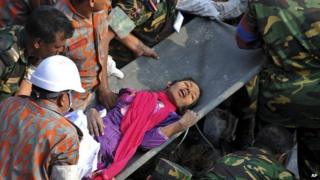 AP
A woman has been pulled from the rubble of the collapsed building in Bangladeshi capital Dhaka, 17 days after becoming trapped.
Rescue workers said they heard 19-year-old Reshma screaming "I'm here", from inside the debris and were able to pull her out.
More than 1,000 people are now known to have died after the building collapsed.
Clear up at the site is well under way and workers were surprised to find Reshma buried in the rubble.
She survived on a small parcel of food and some water but had almost given up hope when she was found.
She said: "It was so hard to make myself heard. I kept banging whatever I could with my legs but no-one could hear me.
"I ate dried food for 15 days. The last two days I had nothing but water."
Disaster
On 24 April the 8-storey clothing factory complex collapsed with thousands of workers inside.
It is the worst industrial disaster in the country's history.
Nearly 2,500 people have been rescued, but no one had been found alive for 12 days before Reshma was discovered.