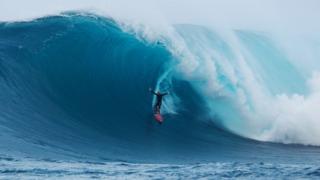 Video: Surf awards names best and worst
A surfing award ceremony has named the best and worst in surfing world with prizes for wipe-outs as well as riding high.
Hawaiian surfer Shane Dorian won one of the sport's biggest prizes the Ride of the Year award at the annual Billabong XXL Global Big Wave Awards.
Shawn Dollar got the Biggest Wave Award for riding a towering wave nearly 19m (61 feet) tall.
Chris Shanahan picked up the Wipe-out Award for a spectacular fall.
Check out some of the amazing surfing.
Courtesy of the Billabong XXL Global Big Wave Awards