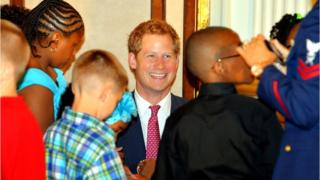 Prince Harry was the surprise guest at the White House on the first day of his tour of America.
Hundreds of screaming women the prince as he began a 7-day tour of the US.
He also made an unexpected visit to the White House for an event to support military mothers and their children.
Prince Harry has served in the British Army so wanted to go to the special tea to honour the American forces.
Guests there were really excited to see him and he was greeted warmly by First Lady, Michelle Obama.
She said:
"We are absolutely thrilled that he could be with us today, that he took the time."
"He just arrived in D.C. and only has a limited time with us because he has a very busy schedule, but when he heard about this tea and all of you..... he wanted to be here to personally thank you for your service."