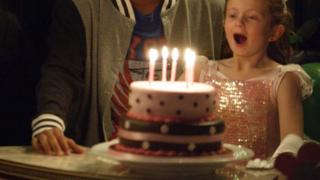 A mum has been told she shouldn't have a birthday party for her daughter because it is the day before a Sats exam.
Tina Adams has organised a party for her 13-year-old daughter for 12 April.
But she was sent a letter by the head at her younger daughter's school that she shouldn't have it on that day.
Her other daughter is 11 and is due to sit her Sats the next day. The school are worried the party could affect how well she does.
Mum, Tina, says the schools should not interfere but head teacher Cathy Noble says you can't be too careful because the exams are really important.
Tina said the letter was an invasion of her privacy saying:
"I don't believe that an hour or so is going to have an effect on exam performance.
"I think it's sad teachers are being put under so much pressure that they would stoop so low so as to spoil a child's birthday party."
In a statement, Mrs Noble said she did write to see if it was possible to delay the party. She said:
"There is more to life - and school - than exams.
"But our young people need to learn an important lesson that will help them throughout their lives: there are times when we need to make allowances if we are to do our best."