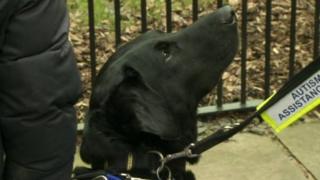 Dog-friendly technology is being developed by scientists at the Open University.
Many assistance dogs already help their disabled owners at home by turning on lights, opening doors or getting clothes out of the washing machine - but these things in the home are designed for humans to use, not dogs.
Researchers are working to develop new devices which dogs could use more easily by pressing their nose against it or pulling it with their mouths.
They hope that computers can help owners and their dogs work more closely together and even communicate.
Find out how dogs help disabled people around the home
Dr Clara Mancini, head of the Animal-Computer Interaction team at the OU said:
"These technologies will be designed for and with the active participation of the dogs.
"The idea is that they will work in a variety of environments where the dogs are required to operate."