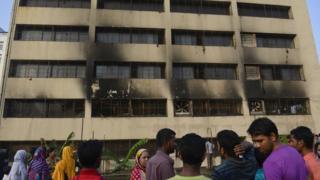 A fire at a clothes factory in Dhaka in Bangladesh has killed at least eight people according to local police.
The fire was at night when not many of the workers were inside the building but the owner of the factory is thought to be one of the people who died.
Investigators are looking into how the fire started.
It follows a disaster in the city on 24 April when an eight storey building collapsed killing more than 900 factory workers.
Clothing industry
About four million people in Bangladesh are employed making clothes and the industry makes up almost 80% of the country's exports each year.
The industry has been criticised over low pay and for the often dangerous working conditions in factories.
On Wednesday, Bangladesh announced a shut down of 18 garment factories for safety reasons.