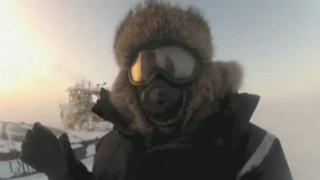 Tough Antarctic conditions delay Coldest Journey team
Bad weather and dangerous ice holes are causing problems for the team hoping to become the first to cross Antarctica during the winter.
The team are seven weeks into their trek but the difficult conditions have delayed their progress.
The 2,000 mile trek they're undertaking is called the Coldest Journey - it's considered to be the coldest journey on earth with temperatures dropping to as low as -90C.
But the delay is not the first challenge they've had to face - famous explorer after suffering frostbite.
Check out the clip from explorer Ian Prickett explaining the challenges he and his team are facing...