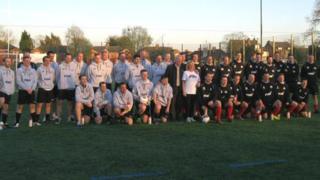 A group of football fans who spent 72 hours playing the beautiful game are hoping to smash the record for the world's longest ever football match.
The 36 players spent three days at Stretford High School in Manchester and raised money for Francis House, a local children's hospice, along the way.
Each player was on the pitch for five hours at a time and had tents nearby where they could get some rest, before heading back to the pitch.
The final score? 603-462.
The winners were Stockport Albion, over Manchester Rovers, in a match that lasted the equivalent of 48 normal games back-to-back.
So far they've raised over £20,000 for charity.
The group are now waiting to hear back from Guinness World Records to see whether the match will become an official record.
They hope to beat the current record holder: a 62-hour football match that was played in the Netherlands in May 2012.