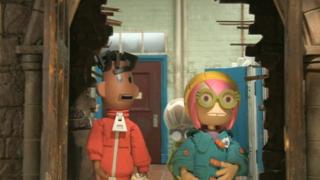 Strange Hill High - behind the scenes
If you've ever suspected your school is a little bit weird, then you'll want to watch new CBBC show Strange Hill High!
It follows students Mitchell, Becky and Templeton who get sucked into some very odd adventures at their extraordinary school.
The series uses a mix of puppets and animation, and Simpsons writer Josh Weinstein heads up the writing team.
Martin went behind the scenes to see how they bring the characters to life!
Strange Hill High starts at 5pm on CBBC on Wednesday 8 May.