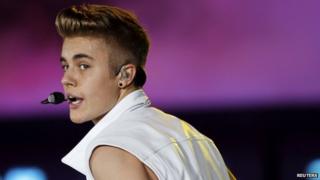 Justin Bieber is being sued by two musicians who claim they wrote his song Somebody to Love.
Devin Copeland and Mareio Overton say a track they wrote, with the same name, has a number of similarities to Bieber's hit.
The pair claim that music scouts presented their song to Bieber's mentor Usher a year before Bieber's song came out.
Copeland and Overton aren't credited as writers on the single.
There's been no comment from Bieber's or Usher's lawyers.
Somebody to Love was released in 2010 and reached number 33 in the UK singles chart.