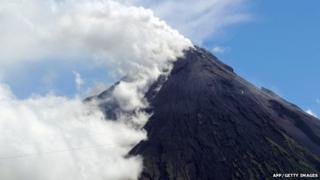 One of the most active volcanoes in the Philippines, south-east Asia, has rumbled back to life.
Mount Mayon sent a cloud of ash and rocks as big as rooms into the sky early on Tuesday.
At least five people in a group climbing the mountain are reported to have died, with at least seven more injured.
A rescue team has been sent to the volcano.
Mount Mayon is famous for its almost perfect cone shape.
It has erupted around 50 times since records began, with the most violent in 1814.