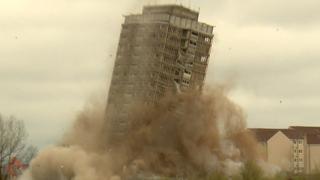 Famous Glasgow tower demolished
A famous part of the Glasgow skyline has been demolished in a controlled explosion in Scotland.
The second of eight iconic Red Road tower blocks was brought to the ground on Sunday.
It took five seconds to reduce the 30-storey building to 10,000 tonnes of debris.
The high-rises were built in the 1960s and were once the tallest flats in Europe - but they became rundown.
The six remaining blocks are to be demolished by 2017.