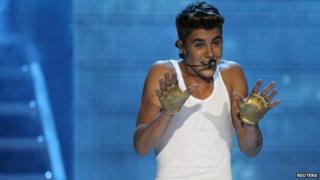 Justin Bieber has been tackled from behind by a fan during a concert in Dubai in the Middle East.
Bieber was performing at a grand piano when the intruder ran on stage during Sunday's gig.
The fan got close to the singer before a security guard stormed on and dragged them away.
Like a true pro, Bieber carried on performing despite the chaos and the piano getting knocked over!
He later tweeted: "Dubai. Nothing stops the show. 2 more to go."
Bieber is currently on his Believe world tour.
He angered fans on Saturday when he was two hours late for his show.