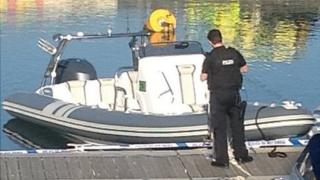 Police are trying to work out what caused a speedboat accident which killed a father and daughter off the coast of Cornwall.
Nick Milligan and his eight-year-old daughter died, and four other family members were injured, when they were thrown from their boat.
It continued to spin out of control until a local waterskiing instructor managed to jump on board and stop it.
It's OK to be upset by the news
Coastguard Matt Pavitt hailed the man's "incredible bravery which undoubtedly saved lives".
Forensic experts have carried out a mechanical examination of the boat, which was owned by the family.