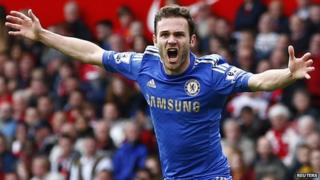 Chelsea are up to third in the Premier League after a 1-0 victory at Manchester United.
It means the Blues are a step closer to that all-important top four finish, which means a spot in the Champions League.
Juan Mata's late strike in the 87th minute went in the net off Phil Jones and the post.
Moments later, United's Rafael da Silva was sent off for kicking David Luiz.
Chelsea are one point ahead of fourth-placed Arsenal and three points in front of fifth-placed Tottenham.
Elsewhere, there was a goalless draw in the Merseyside derby between Liverpool and Everton.
Everton's Sylvain Distin had a goal disallowed.