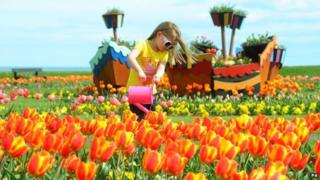 Children across the UK are enjoying a day off school today for the early May bank holiday.
There's been warm weather for much of the country and forecasters have said Monday could be hottest day this year so far!
How are you spending your bank holiday? Have you been making the most of the sun?
Perhaps you're heading to the beach or having a picnic with your mates?
We want to know what you're up to for the extra long weekend...
This chat page is now closed but you can read some of the comments below.
Your comments
"Nothing much here in Scotland, the weather is terrible. But I still played and made the most of the day."
Sophie, Scotland
"I went going to the beach with my brothers and had a picnic. Then we caught 10 crabs and a giant shrimp!"
Holly, Southend-on-Sea, England
"Today I went on a long bike ride with my family, then my sister and I cooled off on our outside water slide."
Helen, Cardiff, Wales
"Today went roller skating with my mum, dad and dog Misty."
Sophie, London, England
"I just came back from a chilli festival which was very hot and spicy!"
Aisling, Ledbury, England
"I am making the most of the lovely weather by playing with my two dogs Tilly and Talulah outside. I'm jumping on my trampoline and we are going to have a pizza for dinner. Yum yum!"
Alex, Ashford, England
"Help my dad in the back garden while it's sunny, play out with my friends, then go out for the rest of the day!!!"
Sophie, South Shields, England
"I'm going to a festival and friends and I are going to do two traditional dances called the Oxo Reel and the Maypole dance. We do them every May Day in Swansea."
Morgan, Swansea, Wales
"I'm going to Saltburn-by-the-Sea to go fossil hunting with my friend."
Poppy, Harrogate, England
"I'm going to the safari park, because it's my birthday tomorrow."
Ethan, Birmingham, England
"I am going to Blackpool Pleasure Beach."
Emily-Jane, Blackpool, England
"I'm going to the cinema with my dad to see the new film All Stars."
Lauren, Nottingham, England
"I'm stuck inside doing all my homework I forgot to do. I'd much rather play outside in the sun but maybe if I finish my homework soon I can."
Jodie, Birmingham, England
"I'm going to go outside and play on my trampoline in my garden and enjoy the lovely weather!"
Niamh, Surrey, England
"I'm going to make banana cake with my mum because the last time we made one my mum ruined it."
Jai, Chessington, England
"I am going to meet my dad in London after his cycle ride from Land's End to London. He raised over £5,000. Well done, dad!!!"
Daisy, Tunbridge Wells, England
"I am dancing at the maypole today and it's going to be fun!"
Lewis, Bedfordshire, England
"Today I am going for a picnic with my family and then I am going skateboarding round town with my friends! I might go swimming later on."
Alla, Winchester, England
"Today I'm going camping in Wales with my class for five days! So excited, hopefully good weather!"
Sophie, Worcester, England
"For lunch I am having a picnic in the town square and this evening we're having a barbecue with our friends."
Bella, Cambridge, England
"I am going to a party today, it is four hours long, but we will be outside for most of it as we are doing mini golf (only if the weather forecast is right - or we'll go swimming but I really don't like swimming)."
Elliot, Birmingham, England
"I have been out with my parents going to different parks like Queen's Park, Regent's Park etc... I have also been sunbathing."
Desara, London, England
"Today I am going to climb Mayar and possibly Dreish (they are two of the Scottish Munros)."
Grace, Dundee, Scotland
"I'm in a carnival with guides and brownies. Then I might go to a fair."
Sasha, Surrey, England