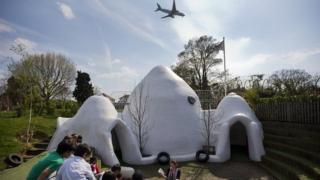 School domes cut airport plane noise
A primary school near London's Heathrow Airport has installed domes to combat noise from planes flying above.
Children at the school couldn't hear each other at break times because of the noise.
Teachers were also worried about the effect the aircraft sounds were having on pupils' learning.
The domes are based on designs normally used for earthquake shelters in Africa and Asia.
But at the Hounslow school they're protecting pupils and teachers from noise.
The dome or 'adobe' is made from coiled bags of earth and plaster, making it very strong and very soundproof.
Head teacher Kathryn Harper-Quinn says the dome has really helped pupils.
She said: "We have looked at the performance of kids doing activities and inside the adobe their performance is much better."
The domes are proving so popular that several other primary schools in the area are planning on getting some too.
Watch Joe's report to learn more.