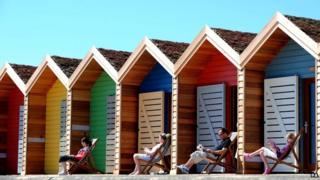 Get your bucket and spade out! Monday's set to be the hottest day of the year so far!
Weather experts are predicting high temperatures of at least 23C in south and central England.
It means temperatures in parts of the UK could beat those in foreign holiday destinations like France and Italy.
This year's sunny Bank Holiday is a big improvement from last year, which was rainy and cold.
Billy Payne, a forecaster for MeteoGroup, said the best of the weather will be in East Anglia, the East Midlands, Lincolnshire and London.
"There will be longer intervals of sunshine," he said, "and there is potential for it to be the hottest day of the year so far."
Things don't look so good for Scotland and Northern Ireland, with temperatures expected to stick around 16C.
Check out Newsround's Bank Holiday weather forecast!
Barbecue time
After weeks of cold weather, the sunny Bank Holiday seems to have led to more people buying barbecues.
Supermarket Asda is reporting a big increase in people buying barbecue products, with Marks and Spencer saying it's expecting to sell double the amount sold last year.