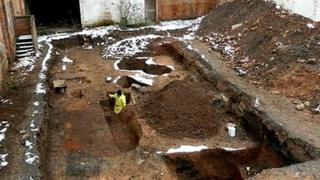 The archaeologists who discovered the remains of Richard III under a Leicester car park have made another historical find.
The team have unearthed a 1,700-year-old Roman cemetery beneath another car park in the city.
Human bones, hairpins, belt buckles, shoes and other belongings were found at the site on Oxford Street.
Project officer John Thomas said: "We have discovered new evidence about a known cemetery that existed outside the walled town of Roman Leicester during the 3rd to 4th Centuries AD."
In February remains found under Greyfriars car park were revealed to be those of Richard III.
Richard was the last King of England to die in battle and had one of the shortest reigns in British history - just over 2 years.