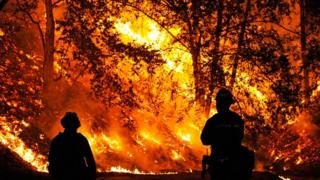 More than 3,000 firefighters are battling six major wildfires in California.
One of the fires has reached the coast north-west of Los Angeles, threatening thousands of homes there.
Very dry conditions and unpredictable strong winds have made the fires worse.
Firefighters are dropping water and fire retardant from the air to try to control the flames.
It is hoped calmer weather over the weekend will also help to contain the fires.
Firefighters have tackled 680 wildfires already this year.
The cause of the wildfires is not yet known.