Thousands of birds have now been affected by the chemical spill which was first discovered back in February, since then Joe has been on the case to find out more.
A massive rescue operation started in when coastguards reported hundreds of birds had been washed up on beaches between Dorset and Cornwall, covered in what was then described as a 'mystery sticky substance'.
Animal charities, the RSPCA (The Royal Society for the Prevention of Cruelty to Animals) and the RSPB (Royal Society for the Protection of Birds) began collecting the birds and taking them to rescue centres to get them cleaned up.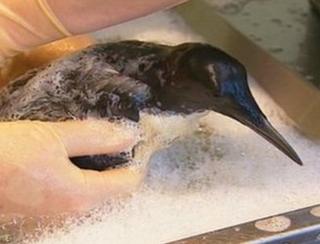 Mystery goo
The Environment Agency began testing the substance to find out what it was and it was later identified as 'a mixture of refined mineral oils', which we now know is a chemical called PIB (polyisobutene).
Later that month, many of the birds were ready to be released back in to the wild. See the video here.
More injured birds
Unfortunately though, that wasn't the last of the mystery bird goo - in April there were more reports of birds being washed up on beaches covered in the sticky substance.
Workers at rescue centres in Cornwall and Somerset have since been helping to nurse even more birds back to full health.
The RSPCA says that if anyone should find any more they should contact them, rather than trying themselves to help any injured or distressed birds.