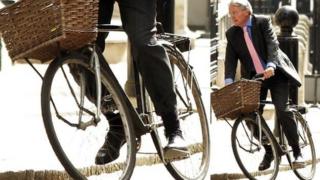 Andrew Mitchell's bicycle, which was at the centre of the "plebgate" row, has fetched £10,600 for charity in an online auction.
The Conservative politician was riding the bike when police officers refused to let him leave Downing Street via the main gate in September last year.
It was claimed at the time that Mitchell swore at the officers and called them "plebs" but he denies both.
Mitchell was forced to leave his role as chief whip of the party after a series of damaging headlines about the confrontation.
Now his bike has been sold after a five day auction on eBay.
The money raised will go to Nyumbani UK, which helps children affected by illnesses like HIV and Aids in Kenya.
The charity said the auction attracted more than 31,600 online views over five days but the identity of the bike's new owner has not been revealed.