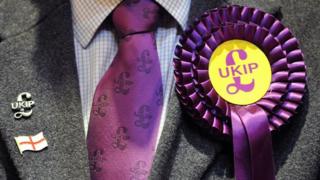 The UK Independence Party is celebrating their results in the council elections, after a night of voting across England and on Anglesey in Wales.
The local council elections decide who run your local services and in the past, UKIP has won only a handful of seats, but this year so far they have won dozens more. In Lincolnshire the party won 16 seats.
UKIPs main policy is that close economic and political union with Europe is bad for Britain.
UKIP leader, Nigel Farage said the votes have come from people who are "rejecting the establishment" and that he thinks his voters believe the three leading political parties "look the same and sound the same".
It has been a mixed result for the Conservatives, Labour and the Liberal Democrats.
The Conservatives have the highest total number of councillors elected, but compared to the last local election results they have lost hundreds of positions.
Labour has the second highest amount of councillors, and in comparison to the previous election they have made progress, with around twice as many councillors in place.
The Liberal Democrats have double the number of councillors as the UKIP party, but this year they have lost more than a hundred seats so far.