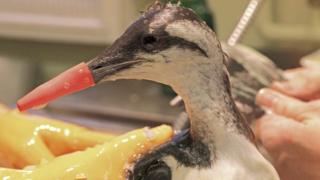 Almost 3,000 seabirds have now been affected by a chemical spill off the south coast of England earlier this year.
The RSPB say the spill of a chemical known as PIB (polyisobutene) is 'one of the worst UK marine pollution incidents in decades'.
PIB is used in ships' engines to help them run more efficiently and it's currently legal to dump it in the water under certain conditions.
But the chemical sticks to birds feathers and makes it hard for them to feed and fly.
New figures released by the charity show almost 2,500 birds have died and at least 500 have been rescued since February.
Animal welfare groups are now calling for the dumping of PIB at sea to be banned.