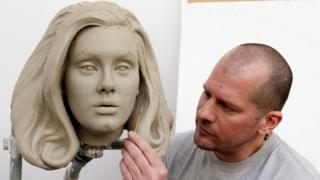 Adele has joined the likes of Lady Gaga, Rihanna and The Queen by being turned into a waxwork.
The Oscar, Golden Globe and Grammy winner is being crafted in wax at Madame Tussauds.
Sculptors are currently working on the wax version of Adele due to go on display in London and Amsterdam this July.
Nicole Fenner at Madame Tussauds said: "She's one of the world's hottest properties right now and one of our most requested personalities. We've seen a huge increase in requests for her figure since 'Skyfall' was released."