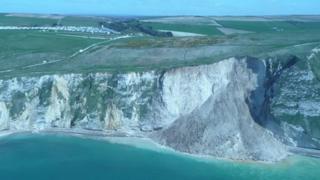 165 landslides were recorded in the UK last year - three times more than normal, according to the British Geological Survey, but experts want your help to record them.
We recently told you about thousands of tonnes of limestone collapsing into the sea at St Oswald's Bay in Dorset, closing the costal footpath.
But expert Catherine Pennington, from the British Geological Survey's landslide team, said that even more landslides may have occurred than they know of.
They're appealing for the UK public to help build the national landslide database in the form of pictures and calling in with information.
It's thought this is the main reason for the big increase in coastal erosion is due to increased rainfall last year.
Records show that 2012 was the wettest year for England and the third wettest for Wales.