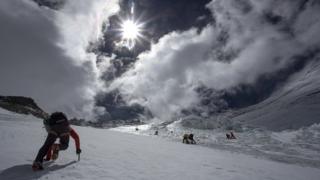 Two climbers involved in a fight on Everest with local Sherpa guides have left the mountain and may abandon their climb.
The group of mountaineers, including one Briton, said they no longer feel safe after an alleged attack by their Nepalese guides.
Jon Griffith was on the mountain with Ueli Steck from Switzerland and Simone Moro from Italy when they say were confronted by a group of up to 100 Sherpas.
Griffith said:
"People seem shocked that we're going home, but what happened up there was unbelievable. Getting back into climbing after that is too much."
But Anish Gupta of Cho-Oyu Trekking, who organised the climbers' expedition, told press agency AFP:
"We were told our clients disagreed with the instructions of the Sherpa guides and went ahead over some icy terrain,"
"At some point the foreign climbers kicked some ice back and it hit one of the Sherpa guides, causing the fight to start."
What is a Sherpa?
Sherpas are local people who are highly skilled climbers. They are paid to help people from around the world climb Mount Everest, the highest mountain in the world.
They know the mountain and its terrain very well. Some Sherpas plot safe routes for climbing, fix ropes and act as mountain guides to ensure climbers' safety.
Some Sherpas are on hand to provide medical attention in an emergency and others cook food needed for the trip or set up camp for the mountaineers.
'Sherpa' refers to the Tibetan tribe of people who live in the mountainous region of Nepal, near Everest.