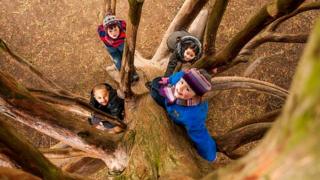 The National Trust has updated its list of 50 things to do before you reach 11 ¾, and we want to know what you would add to it and why?
Last year the charity came up with a massive list of stuff you lot want to do before you are almost 12 years old.
This year though they have had to update it because they say so many kids have already completed the list!
We asked you what is on your 'to do' list. Here's a selection of what you had to say.
To see the full list scroll to the bottom of the page.
Your comments
"On my 'to do' list, I would love to meet Michael Morpurgo and J.K Rowling.
Anna, Ashford, England
"I would love to watch the sunset in the countryside."
Afra, London, England
"Swimming twelve lengths freestyle nonstop with 3 - stroke breathing without any help."
Senaliya, Colombo-Sri Lanka
"Unfortunately I am already 11 3/4 but that won't stop me from doing any of these because I love all of the fun things to do on the list!"
Nicola, Great Yarmouth, England
"On my to do list, I would jump off the highest mountain and meet Cathy Cassidy!"
Hayaat, Leicester, England
"I would like to see the northern lights!"
Claudia, London, England
"I'm 12 now, but completed the 11 3/4 list a few months ago. On a new one I think there should be 'Dance/Jump in a pile of crunchy leaves' I always wanted to do that, and shout "ger-on-o-mo" in the middle of field. So fun!"
Catherine, Cambridgeshire, England
"I would love to enter a Water Skiing competition before I am 11 and 3 quarters."
Alex, Ashford, England
"I would climb up a cliff, then dive off the cliff face into the water."
William, Swansea, Wales
"To go to America and meet Barack Obama as he is such an inspiration."
Jade, London, England
"To go and visit the Great Barrier Reef as it's a beautiful place to go with your family."
Chloe, London, England
"I would love to meet The Script!"
Simonne, England
"I would love to read all the Jacqueline Wilson books, visit Florida and climb a tree!"
Georgia, Kent, England
"Have a peanut butter and jelly sandwich!"
Tate, Edmonton, England
"I would meet Ronaldo and he would teach me to do his wonderful free kicks."
Adam. Leicester, England
"I would love to go to Lego land and go on the big water ride."
William, Buckinghamshire, England
"To bathe in a tub of warm melted chocolate with marshmallows as sponges!"
Carys, Dorking, England
"I'd love to be able to meet an author and get a book signed."
Chloe, Ripon, England
"I would love to meet One Direction definitely!"
Da-Hyun, London, England
"I would love to go to Cadbury's world."
Belinder, England
"As i live in the countryside I would love to spend the night in London; really near all the attractions!"
Catherine, Whitwell, Hertfordshire
"On My list, I would help people in Kenya."
Yasmine, London, England
"I would make a den out of sticks in my local park with my friends."
Carter, Hull, England
"I would like to go to Egypt."
Klaudia, Batley, England
"On my To-do list, I would love to go surfing on the sea whilst it was raining at night."
Maneet, London, England
" I really want to complete a Rubix Cube!"
Deanna, Tonbridge Wells, England
"I would love to have a little brother."
Jaime-Ann, South Yorkshire, England
"I think i would learn to ride a horse, walk over 5 kilometres, go skiing and go into some caves."
Sofia, Surrey, England
"I would like to climb a snow mountain in France."
Ellinor, Lancashire, England
"I would love to have watched every single 'Simpson' episode!"
Joshua, Edgware, England
"I would go ice skating and go to town with my friends for the first time!"
Tania, Cardiff, Wales
"One thing I will love to do is go on the scariest, the biggest and fastest rollercoaster ever!"
Adeline, London, England
"I would love to go swimming with dolphins!"
Joshua, Essex, England
Here's the full list:
1. Climb a tree - Wallington, Northumberland
2. Roll down a really big hill - Croome, Midlands
3. Camp out in the wild - Gibside, Yorkshire
4. Build a den - Lyme Park, Stockport
5. Skim a stone - Fell Foot Park, Cumbria
6. Run around in the rain - Finch Foundry, Dartmoor
7. Fly a kite - Dunstable Downs, Bedfordshire
8. Catch a fish with a net - Parke, Dartmoor
9. Eat an apple straight from a tree - Llanerchaeron, Ceredigion Coast
10. Play conkers - Osterley Park and House, London
11. Go on a really long bike ride - Wimpole Estate, Cambridgeshire
12. Make a trail with sticks - Longshaw and Eastern Moors, Peak District
13. Make a mud pie - Moseley Old Hall, Staffordshire
14. Dam a stream - Prior Park Landscape Garden, Bath
15. Play in the snow - Bodiam Castle, East Sussex
16. Make a daisy chain - Lacock Abbey, North Wiltshire
17. Set up a snail race - Lyveden New Bield, Midlands
18. Create some wild art - Sheringham Park, Norfolk
19. Play Pooh sticks - Mottisfont, Hampshire
20. Jump over waves - Compton Bay and Downs, Isle of Wight
21. Pick blackberries growing in the wild - Castle Ward, County Down
22. Explore inside a tree - Hatfield Forest, Essex
23. Visit a farm - Cuckmere Valley, South Downs
24. Go on a walk barefoot - Strumble Head to Cardigan, Pembrokeshire
25. Make a grass trumpet - Hare Hill, Cheshire & Wirral Countryside
26. Hunt for fossils and bones - Birling Gap and the Seven Sisters, South Downs
27. Go star gazing - Tyntesfield, Bristol
28. Climb a huge hill - Ashridge Estate, Hertfordshire
29. Explore a cave - Yorkshire Dales, Yorkshire
30. Hold a scary beast - Clumber Park, Nottinghamshire
31. Hunt for bugs - Hardcastle Crags, West Yorkshire Countryside
32. Find some frogspawn - Springhill, Mid Ulster
33. Catch a falling leaf - Rowallane Garden, County Down
34. Track wild animals - Castle Drogo, Devon
35. Discover what's in a pond - Florence Court, County Fermanagh
36. Make a home for a wild animal - Fountains Abbey & Studley Royal, Yorkshire
37. Check out the crazy creatures in a rock pool - South Milton Sands, Devon
38. Bring up a butterfly - Anglesey Abbey, Gardens and Lode Mill, Cambridge
39. Catch a crab - Plas Newydd, Wales
40. Go on a nature walk at night - Nostell Priory and Parkland, Yorkshire
41. Plant it, grow it, eat it - Tredegar House, South East Wales
42. Go swimming in the sea - Llyn peninsula, Llyn Wales
43. Build a raft - Borrowdale, North Lakes
44. Go bird watching - Kingston Lacy, West Dorset
45. Find your way with a map and compass - Chartwell, Kent
46. Try rock climbing - Brimham Rocks, Harrogate
47. Cook on a campfire - Stackpole, Pembrokeshire
48. Learn to ride a horse - Clandon Park, London
49. Find a geocache - Sizergh, South East Cumbria
50. Canoe down a river - Brancaster Millennium Activity Centre, Norfolk Coast
To make the list, the charity asked more than 1,700 kids to vote on their top outdoor activities.