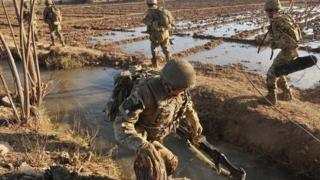 Three soldiers die in Afghanistan
Three British soldiers have been killed in Helmand Province in Afghanistan after their vehicle was hit by a bomb. Their families have been told.
Nine Afghans were also killed in the blast, which happened as the British troops were on a routine patrol.
A total of 444 British service men and women have now been killed in Afghanistan since the war there began in 2001.
British troops are set to leave the country by the end of next year.
The spokesman for Task Force Helmand, Major Richard Morgan, said:
"Their deaths come as a great loss to all those serving in Task Force Helmand."