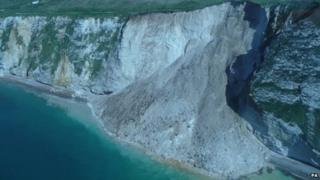 A big landslide on Dorset's Jurassic Coast has brought thousands of tonnes of limestone rock into the sea, destroying half of the cliff face.
Luckily no one was injured, but a large part of the popular local path was wiped out, and police are keeping people and boats away from the area.
A member of the coastguard was shocked: "It is huge - a massive fall has taken out part of the cliff. It is rather extraordinary."
He said cliffs along the Dorset coast were in a "fragile" state because of heavy rain over the past year, followed by recent dry weather.