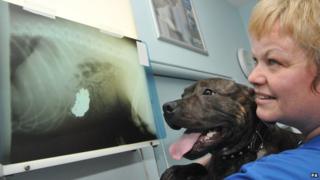 Buster the Staffordshire bull terrier must be a very hungry dog - he even ate his 2ft long metal lead!
The nine-month-old puppy needed emergency surgery after eating the chain when his owner wasn't looking.
Swallowing the metal could have been really dangerous for Buster.
But luckily his local PetAid hospital managed to remove it with no complications, and he's now back to his boisterous self.