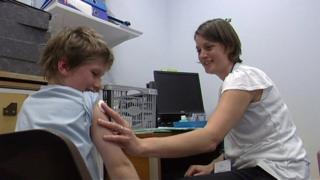 Some children will be given a vaccination to protect them from flu from September.
The drug will be sprayed up the nose instead of being injected.
It was not supposed to happen until next year but the government has brought the start date forward for two year olds.
The UK will become the first country to offer the flu vaccine to healthy children for free.
Professor David Salisbury, director of immunisation at the Department of Health said:
"We already have a world class vaccination programme in place, which saves millions of lives each year."
"I'm pleased that we will be able to protect even more people against disease starting later this year."