Figures released by the RSPCA show that the number of convictions for animal neglect and cruelty rose by over a third last year.
RSPCA inspectors investigated more than 150,000 suspected cruelty cases in 2012 and they say more animals than ever before are in need of help.
Rescue cases included rabbits, guinea pigs, ponies, dogs, cats and chickens saved from a flooded barn.
The charity says more needs to be done to protect animals.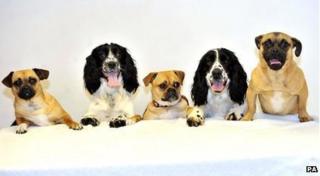 PA
RSPCA chief executive Gavin Grant said.
"Our inspectors investigated 150,833 suspected cruelty cases and issued 78,090 advice notices last year - these are extremely effective in improving the care of animals."
"However if there is evidence of a crime and serious animal abuse then we will take legal action to protect the animals and prevent further abuse."
"We also want to see judges taking these offences far more seriously."