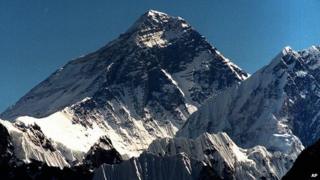 Police in Nepal are investigating claims a fight broke out between famous climbers and Sherpas during an expedition up Mount Everest.
Ueli Steck, from Switzerland and Simone Moro from Italy, are famous European climbers who were on an expedition, along with British climber and photographer Jonathan Griffith.
The trio were climbing with a group of Nepali mountain guides, known as Sherpas.
Sherpas are locals from the Everest region and are noted for their climbing skills. They are responsible for fixing ropes and accompany most of the foreign climbers to the summit.
They had reached almost 25,000 feet when the fight is said to have broke out. Both sides blame each other for starting it.
Base camp
The Nepali police were told about the incident after the three climbers packed up a few of their belongings and returned to base camp.
Nepal's Tourism Ministry official Dipendra Paudel said the government would ensure the safety and security of the climbers.
He said "There was a slight misunderstanding and communication gap between them," and that "this has been sorted out and the climbers are at the base camp."