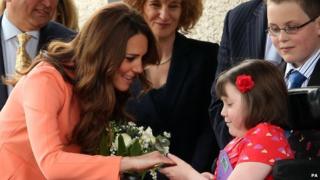 The Duchess of Cambridge has visited a Children's Hospice in Hampshire.
Kate is a supporter of the centres which provide care for children who are seriously ill.
She met some of the children who are patients there, including eight year old Sally.
Earlier this week she recorded a video message to ask people to support fundraising efforts for Children's Hospices.
Professor Khalid Aziz, chairman of Naomi House said:
"We are delighted that Her Royal Highness has chosen Naomi House to visit at the start of Children's Hospice Week."
"Her presence has provided a real boost for our families, our volunteers and all our dedicated staff who were thrilled to meet her."