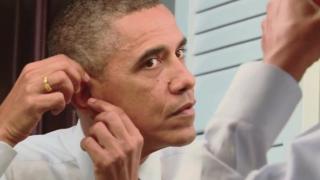 Spielberg presents Obama 'movie'
President Barack Obama poked fun at himself at the annual White House Correspondents' Association dinner in Washington.
The president ended his speech playing a taped piece with Hollywood director Steven Spielberg who did a spoof claiming his new project would be a movie on the president called "Obama".
The director recently made a film about former American leader, President Lincoln, starring Daniel Day-Lewis as Lincoln.
Mr Obama then appeared acting as if he were Day-Lewis preparing to play Obama in the film of his life.
Video courtesy of the White House