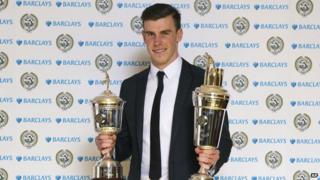 Tottenham's Gareth Bale has beaten Luis Suarez and Robin Van Persie to the Professional Football Association Player of the Year award.
The 23 year old was also named the young player of the year.
Only two other players, Andy Gray and Cristiano Ronaldo, have won both awards in the same season before.
In his acceptance speech, Bale said that he wants to go on and win silverware with his club, not just receive individual trophies.
He said: "It's a massive honour. To be voted by your peers is one of the biggest things in the game."