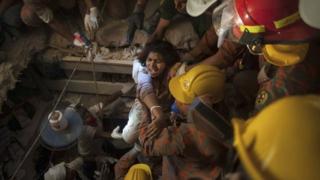 Rescue teams try to reach trapped
Rescuers are working to try and save about nine people trapped in the wreckage of a collapsed factory in Bangladesh's capital city Dhaka.
Water and food are being dropped through gaps in the rubble.
On Sunday, two more people were pulled alive from the remains of the building, with a total of 29 rescued on Saturday.
More than 350 people died after the eight-storey Rana Plaza building collapsed on Wednesday.