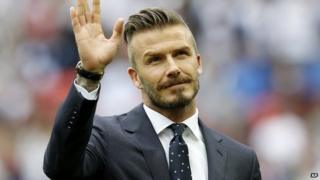 David Beckham is the richest sports personality in Britain.
The star footballer topped The Sunday Times Sports Rich List 2013, with a fortune of £165 million.
Wayne Rooney is the richest Premier League player - he has £51 million.
The striker is ahead of team-mate Rio Ferdinand (£42 million), and Michael Owen (£38 million).
Footballers make up nearly half of the top 100 wealthiest sports stars.
Also on the list are 12 golfers, 12 from the world of motor sport, eight from rugby and five boxers.
Lennox Lewis is the highest paid boxer, with prize money and homes he owns giving him a personal fortune of £95 million.
Motor racing features prominently in the rich list, with Eddie Irvine (£83 million), Lewis Hamilton (£60 million), Jenson Button (£58 million) and David Coulthard (£53 million) among the top 12 richest sportsmen.
And after a year in which he won his first Grand Slam, and gold and silver medals at the Olympics, tennis star Andy Murray is at number 32, with a fortune of £32 million.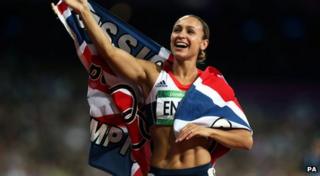 However, no women have made it on to the list.
In spite of her incredible performance at London 2012, it doesn't look like Jessica Ennis is even close to making it into the top 100.
It's estimated that her fortune will have topped £3.5 million by this summer.
But that's way behind the £12 million earned by those at bottom of the top 100, like England manager Roy Hodgson and Chelsea manager Rafa Benitez.
Your comments
"Most sports are dominated by men. Can you name 10 women footballers? You can't can you? Name 10 male footballers? Easy isn't it? They earn silly money for moving a ball around a field! Something needs to change."
Amie, Leeds, England
"Sport is not about the money. It's about being good at what you do and enjoying it no matter what."
Ellie, Portsmouth, England
"I think David Beckham has worked hard to earn his money but Jessica Ennis is a really hardworking sportsperson too and it's not fair that she's not on the list."
Aleema, Leeds, England
"I think footballers get paid too much. They have so much money they don't know what to do with it. And then we have great athletes who train for years who get nothing."
Natalie, Southampton, England
"I think that it is really sad that no women are in the top 100. But it's really not about the money - but the sport. I think that Jessica (and everyone else) have done us PROUD, in or out of the top 100!"
Amina, Bradford, England
"I think it's not very good. We have so many women sportspeople and they are amazing like Rebecca Adlington and Ellie Simmonds."
Archie, Crewe, England
"I think it is terrible, I'm really sporty, and I want to be a footballer when I'm older. If you get noticed more when you're a man and you get paid more too, it isn't fair.
Charlotte, Derbyshire, England
"I am not surprised as women's sports like football are not televised so players aren't as well known. They do not get interviewed or get their own brand of clothing or adverts. I think they should have these things to give women a fair chance in sports.
Shannon, Northampton, England
"I'm surprised Jessica Ennis isn't on the list because she has won lots of medals and is a brilliant athlete."
Beth, Sheffield, England
"I don't think it's surprising for footballers to be rich but what I don't get is why they get paid so much."
Callum, Manchester, England