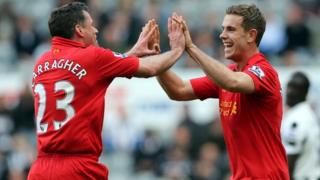 Liverpool boss Brendan Rodgers said his team's 6-0 win over Newcastle was a "great victory" after what's been a difficult week for the club.
First half goals from Daniel Agger and Jordan Henderson set Liverpool on the way to their biggest win of the season.
Daniel Sturridge scored twice from close range before Fabio Borini netted his first league goal for the Reds.
Henderson scored Liverpool's sixth with a free-kick, after Mathieu Debuchy was sent off for fouling Philippe Coutinho.
Suarez
The huge win comes at the end of a tough week for Liverpool, with their star striker Luis Suarez making headlines.
He's been banned for 10 games by the Football Association for biting Chelsea's Branislav Ivanovic.
Prime Minister David Cameron got involved in the discussion about what Suarez had done, saying Liverpool's leading goalscorer had set "the most appalling example" to children.
After Saturday's win, manager Brendan Rodgers said: "Luis was wrong and we take the punishment and move on.
"It has been a difficult week as a group and club. It's a great victory on the back of a difficult week."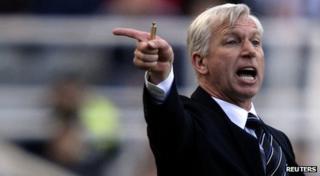 'Tough blow'
Newcastle manager Alan Pardew said his side lost their discipline in the defeat to Liverpool.
The result has left the Magpies five points above 17th-placed Wigan in the Premier League, having played one game more.
"I didn't see that coming; it is a tough blow. We lost our discipline," said Pardew.
"It is very important now that we get at least four or five points more to get safe. We are in a battle, more so than we have been in all season."