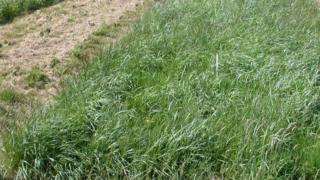 A new type of grass, developed by a team of UK researchers, could help reduce flooding.
Tests by plant and soil scientists showed the new grass helped keep moisture in the ground, instead of flowing into rivers.
The results were published in the journal Scientific Report.
The grass has been made by combining two plants that are widely grown by farmers for their livestock to eat - perennial ryegrass and meadow fescue.
Over a two-year period at the Rothamsted Research site in North Devon, the team found that the new grass reduced the amount of water running off into rivers by up to 51% compared with perennial ryegrass and by 43% compared with meadow fescue.
However, the team say the grass is not a "magic" answer to the problem of flooding, it may just help to reduce the amount of water flowing from fields into rivers.