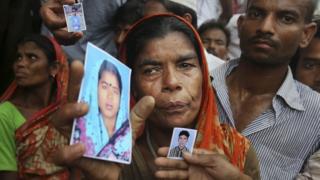 Asia's clothes factories under scrutiny
There have been violent demonstrations in the Bangladeshi capital, Dhaka, in protest at the poor working conditions in the country's huge clothing business.
More than 300 people are now known to have died when an eight-storey building collapsed on Wednesday.
Some people have been found alive but it's feared many more are still trapped under the rubble.
The disaster has shed a light on an industry that supplies many of our clothes... and raised questions about the price being paid by those making them.