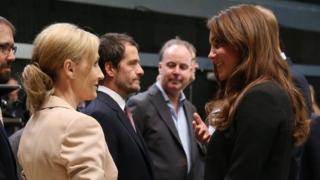 That's magic! Royals visit film set
The Duke and Duchess of Cambridge and Prince Harry have visited Warner Bros Studios in London to officially open the attraction.
The Royal visit included a tour of The Making of Harry Potter, which opened last year, seeing props, costumes and models from the Harry Potter film series.
They also tried casting some magic spells of their own using replica wands used in the films.
The Royal trio were given an insight into the film-making process as they officially opened the Studios where all eight Harry Potter films were made, as well as Star Wars Episode 1 - The Phantom Menace.
They met some of the Studios' production team as well as children and parents who are associated with some of the charities that they support.