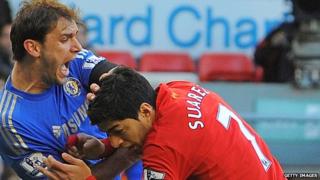 Liverpool striker Luis Suarez will not appeal after being banned for ten games by the Football Association for biting Chelsea's Branislav Ivanovic.
The incident happened during Sunday's 2-2 draw between the sides.
The Reds top scorer did apologise to the Chelsea defender after the match, but that does not seem to have had an impact on the length of the ban.
Under the ban Suarez will miss the final four games of this season, and the first six games of 2013-14.
"The suspension begins with immediate effect and applies to Liverpool FC's next 10 domestic first-team fixtures," the FA said in a statement.
'Appalling example'
Prime Minister David Cameron said on Friday that it was "serious" as footballers are seen as "role models" for kids.
"I've got a 7-year-old son who just loves watching football," he said.
"When players behave like this it just sets the most appalling example to young people in our country."
Liverpool had felt a three-match ban would have been fair and bosses at the club said they were surprised at the FA's decision.
The club's managing director Ian Ayre said: "Both the club and player are shocked and disappointed at the severity of today's Independent Regulatory Commission decision."
It is not the first time Suarez has bitten someone.
In 2010 he was banned for seven games when he was at Ajax after biting PSV Eindhoven midfielder Otman Bakkal's shoulder during a match.
While playing at Liverpool, Suarez was also given an eight-match ban and £40,000 fine by the FA for racially abusing Manchester United left-back Patrice Evra in December 2011.