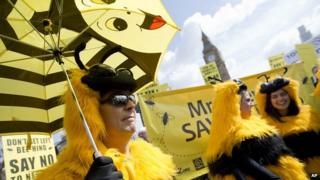 More than 100 people protested outside Parliament in London calling for a ban on the use of some pesticides - which they say are harmful to bees.
Pesticides are chemicals used to protect crops from insects, or 'pests'.
But campaigners say the chemicals contained in some pesticides are having a damaging effect on bees - and us too.
Wild species such as honey bees are said by researchers to be responsible for pollinating around one-third of the world's crop production.
Bee populations in the UK have fallen dramatically in recent years.
Check out Newsround's guide to bees
The European Union wants to restrict the use of pesticides containing chemicals called neonicotinoids - which are like nicotine, the poisonous substance in cigarettes.
But Britain's government won't back the EU ban, saying there isn't enough scientific proof to stop the pesticides from being used.