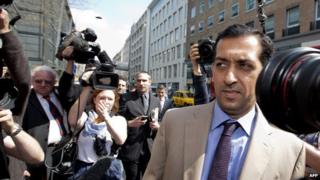 A trainer from one of the world's most famous and successful racing stables has been banned for eight years for doping.
Earlier this week, Mahmood Al Zarooni, a trainer at the Godolphin stable, admitted giving horses from his stable banned drugs.
The drugs are not allowed because they give the animals an unfair advantage.
Al Zarooni said it had been a "catastrophic error".
The British Horseracing Authority has also banned 15 of the horses he trained from racing for six months.
'Tremendous damage'
Godolphin stable is run by the ruler of Dubai, Sheikh Mohammed bin Rashid Al Maktoum.
The stable's racing manager, Simon Crisford, said:
"Al Zarooni acted with recklessness and caused tremendous damage to Godolphin and British racing.
"I think it will take a very long time for Godolphin to regain the trust of the British public. We're shocked and completely outraged by the actions he has taken."
Al Zarooni apologised for what he'd done:
"I accept it was my responsibility to be aware of rules and regulations around banned substances.
"I apologise to Sheikh Mohammed and all those at Godolphin, and the public who follow racing."