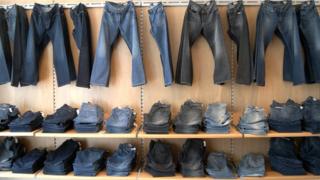 Have you ever looked at the labels on your clothes to see where they're made?
Many of the things we wear aren't put together in Britain but are sent here from big factories overseas.
It's often cheaper for companies that make clothes to locate themselves in developing countries.
But this week's disaster in Bangladesh, when a clothes factory collapsed, has got people talking about the conditions sometimes faced by the people who make our clothes.
Poor conditions
Workers in Bangladesh, who sew clothes for customers in richer countries, are amongst the lowest paid in the industry anywhere in the world.
Some organisations, like campaign group Labour Behind the Label, worry about the conditions they face.
They argue that many workers in Bangladesh and other developing countries work long hours for low pay, often in unsafe buildings.
But making clothes is hugely important to the economy of developing countries, with factories providing jobs for millions of people.
In Bangladesh alone, around 3.6 million people work in the clothing industry.
The clothes companies themselves argue that their factories help poorer countries develop and make money.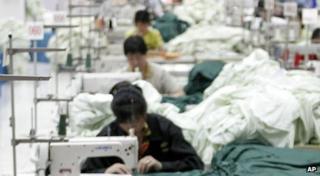 Clothing retailers Primark, Matalan and Mango have confirmed that some of their suppliers were based at the building that collapsed in Bangladesh.
They've said they will work with other retailers to look at safety standards.
In a statement Primark said its "ethical trade team" would work to collect information about the people affected by the disaster and "provide support where possible".
Your comments
"We are just happy that someone has made something that we can wear. Sometimes we look at the labels and find out where they were made and imagine who made them. We think it is important that the people who make our clothes work in good conditions and get fair wage, however, we are mostly thankful that they have put in the time to make us something."
Ava and Arya, Buckinghamshire, England
"My parents come from Bangladesh and I've been there as well and I've seen people working in dangerous places just for money they work for so long and they get paid a small about of money. I think it's unfair - Bangladesh needs better working conditions!"
Nadia, Brighton, England
"I don't think it matters where they come from however I think it does matter that the workers who make our clothes get a decent wage and can work in clean safe working conditions."
Grace, Dundee, Scotland
"I would rather wear an expensive outfit than a cheap one that had been made in an inhuman manner."
Martha, Mol, Belgium
"We care as we would like to see everyone having fair pay and fair working conditions. We don't think it is fair that people are working in dangerous conditions."
Class 3, Nettlesworth Primary School, England
"I don't think people care where their clothing comes from because they're just worried about how they look."
Annabel, Brighton, England
"No not at all, I don't even think that it should matter and I think we should learn that as long as we have the things we need we should be happy as some people don't have anything."
Katie, Cyprus
"I do care where they are made because the item may not be made well."
Hayat, Leicester, England