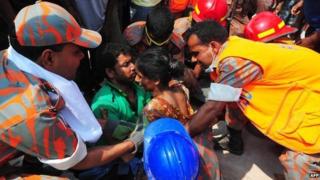 The problem of unsafe factories in Asia
Forty people have been found alive in a room in the ruins of a building in the capital of Bangladesh, Dhaka.
At least 220 people are known to have died when the factory building collapsed on Wednesday. Rescue efforts have been going on since then.
Police said the factory owners had ignored warnings not to allow their workers into the building after cracks were noticed on Tuesday.
The factory's owners are now said to have gone into hiding.
The exact number of people still trapped isn't clear, but according to survivors and eyewitnesses, there could be hundreds still missing.
Tens of thousands of family members of those who worked in the building have gathered at the site, waiting for news and helping with the rescue work.
Bangladesh's Prime Minister Sheikh Hasina has announced a national day of mourning on Thursday in memory of the victims.