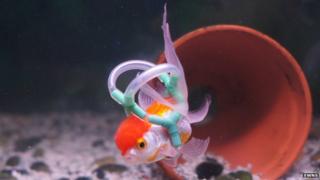 A pet owner in Blackpool was so upset that his fish couldn't swim anymore that he made it a mini life jacket.
The tiny Fantail fish lost the ability to swim after developing a bladder infection.
It made the fish turn upside down and sink to the bottom of his tank.
So owner Leighton Naylor made him a small 'floating frame' from recycled tubing, which fits perfectly over the fish's two-inch long body.
And after a few adjustments the four-year-old pet - named Einstein after his ability to learn tricks - is now back swimming happily.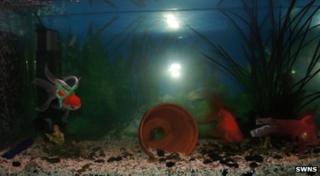 Leighton said: "It broke my heart to see him so helpless. He looked so sad.
"I wanted to build something that would allow Einstein to move his fins a little bit and be comfortable at the same time.
"People have said I'm crazy but every animal is a valued family member and I do my best to help every one of them."