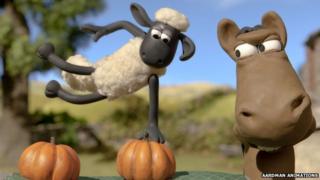 Shaun the Sheep is set to make his big-screen debut in spring 2015.
Aardman Animations are teaming up with film company StudioCanal to make a movie, where Shaun will leave his farm for a big adventure in the city.
Shaun first hit our screens in the Oscar-winning short film A Close Shave, and went on to star in his own TV series in 2007.
Today, the cheeky sheep's adventures are shown in more than 170 countries across the world.
The new film's story will see Shaun's mischief leading to the Farmer having to leave his farm.
The "epic adventure" that follows will have Shaun, Bitzer and the flock go into the big city to rescue him.
Play all of CBBC's epic Shaun the Sheep games!
"Shaun and his friends have a massive global following," said David Sproxton, executive chairman and co-founder of Aardman Animations.
"We are very excited about being able to put them into a bigger adventure for the big screen."